Jack Reiss Referee "WHAT A WONDERFUL WORLD" Dad
Jack Reiss Referee "As I Remember"  
Son Joe Reiss was interviewed by Ellen Berman for this Biography of his  
         "What A Wonderful World" Dad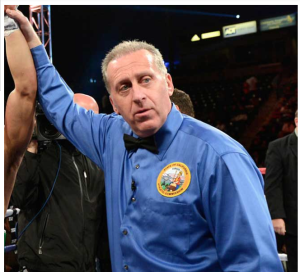 AUDIO VERSION OF JACK REISS REFEREE'S BIOGRAPHY
Jack Reiss was born into an immigrant Jewish Family on April 27, 1956 in the Coney Island neighborhood of Brooklyn New York.  His father was born in Romania and his mother was Austrian. Jack's father passed away when Jack was eight years old…and his mother never remarried and raised her three children by herself.  Jack grew up in a very poor family but always had a loving home environment. Jack's mother moved to Florida and lived to the age of 96. Jack is the baby of his family..he adores his older sister Arlene and older brother Rick.  Jack loved being raised in the excitement of Coney Island. Jack always jokes about how he came to California at age 21 to visit his friend Scott Openheimer for a week and never left. Jack was always a "Jack of All Trades".  One of Joe's favorite photos of  his dad, Jack Reiss, is at age 13 when his father was wearing a sailor hat, rolled up jeans and PF Flyer sneakers pushing a Kmart shopping cart on the boardwalk of  Coney Island selling hot pretzels and hot dogs.  Jack Reiss is the father that made "A Wonderful World" for his lovely wife Josephine and his sons Riley and Joe. Jack and Josephine married when they were 28 years old and embraced Jack's Jewish Culture and wife Josephine's  Mexican/Puerto Rican Culture and made a beautiful life together. Jack raised his family in Saugus, CA and upon retirement bought a beach house in Ventura, CA for his retirement days.  Jack was raised a few blocks from the beach in Coney Island and now he is a few blocks from the beach in Ventura, CA.    Jack Reiss is so multi-talented…he is  a "Jack of All Trades", master of all.…work clothing designer, business owner, fireman, referee, real estate executive, double black belt karate champion, etc., etc., etc.  Jack Reiss is always busy and encouraged his sons to excel in school, have many interests, enjoy sports, stay busy, and always work hard  in their careers.  Jack's son Joe is extremely grateful to have grown up with such a loving, strict, family oriented, and more than amazing human being that happens to be his father.  Jack taught his sons to be leaders and to always put everything into whatever they set out to do…half way efforts were not acceptable. Jack Reiss was absolutely the father that he dreamed that he had when he was growing up. Joe said that it so humbling to be the son of Jack Reiss…his father always demonstrated great character, hard work, passion for food, love of  life, helping people and making the best of everything.  Jack Reiss turned very tough times into a wonderful world…that is why he is the "What a Wonderful World" Dad. Here are some lyrics that describe Jack Reiss.
   What a Wonderful World 
Lyrics  by Louis Armstrong
I see trees of green, red roses, too,
I see them bloom, for me and you
And I think to myself
What a wonderful world.
I see skies of blue, and clouds of white,
The bright blessed day, the dark sacred night
And I think to myself
What a wonderful world.
When the (911) September 11, 2001 tragedy happened in Jack's hometown of New York City, Fire Captain Jack Reiss gathered other fireman from Los Angeles and immediately hopped a plane working side by side with the New York Fire Department at this very sad time in history…again trying to turn a tragedy back into "A Wonderful World".
Here is a wonderful article written by Ray Wheatley – World of Boxing
The Third Man: Jack Reiss
World championship referee Jack Reiss has worked in more than 2000 professional boxing matches and 42 world title bouts including Julio Chavez Jr vs Sebastian Zbik, Danny Green vs Manny Siaca and Mikkel Kessler vs Andre Ward. Reiss talks to Fight News…
Reiss said, "I born Brooklyn, N.Y. in 1956. My dad died when I was eight. My mom worked every day — rain or shine — taking trains to Manhattan for the next 30+ years to support herself and us. Growing up I boxed, played baseball, football and hockey. At 14, I became interested in martial arts.
"At 23, I broke a bone in my right foot in a full-contact kickboxing bout, went to Los Angeles for a two-week rest and stayed, becoming an LAFD firefighter. I made Captain in '92. During 9-11 I spent 15 days at Ground Zero with the LAFD-CISM team assisting with the rescue and recovery operation after the attacks on the World Trade Center.
Reiss continued, "I boxed and played hockey for the LAFD. In 1998 I became a professional boxing referee. Currently I've reffed approximately 2000 pro bouts, 42 world-title fights and officiated in Australia, Germany, Chile, Panama, United Kingdom, Singapore, Mexico, Antigua, Hawaii, Washington, Connecticut and California. I had the opportunity to be a referee on THE CONTENDER, the TV reality show, for four years."
Jack recently assisted Robert Byrd at the IBF convention in Las Vegas in conducting the referee's seminar.
"I conduct seminars for professional boxing referees, judges and MMA officials. One of which is titled 'The Theory of Stopping Fights – A Scientific Approach,' based on 31 years experience assessing trauma victims as a firefighter/emergency medical technician and pro referee," Reiss concluded. 
Here are some excerpts from an article written by
 Art Sorrentino, LAFD retired
About forty-five years ago, a teenager living in Brooklyn picked up a pair of boxing gloves and began a journey that has not yet come to an end.
It was in the late 1960's that Jack Reiss began boxing in backyard matches and then went on to compete in amateur fights known as "smokers." The race was on. He continued his boxing education by participating in full contact kickboxing, and then there were many more "smokers."
By 1980 Jack had come west to become a member of the LAFD. He started a family, marrying Josephine, and together they have two children, Riley and Joseph. Twelve years later he promoted to captain, a rank he held until he retired in 2011. He also sells real estate with ReMax in Ventura County, helping fire families find and sell homes.
Jack added to his boxing skills by playing organized hockey for a variety of teams, including the LAFD hockey team. There is a joke in there but it would just be too easy. 
Although Jack is retired from the LAFD, he is still very active in the boxing world as a referee. Jack is also an instructor for the California Athletic Commission, WBC, IBF, WBO and the British Columbia Commission.
On October 25, 2014, after forty five years of competing in and refereeing the sport of boxing, Jack received an honor that is reserved for a select few. He was inducted into the California Boxing Hall of Fame. This is very thin air indeed.
According to Bruce Young, also LAFD retired, "Jack has and is still having a stellar career as one of the premier men working inside the ropes and has obviously commanded the attention and respect of his peers in the professional world of boxing." And Bruce should know, as he comes from a pro boxing family himself.
To give you an idea of how highly Jack is regarded, here are just a few of the former inductees: Rocky Marciano, Joe Frazier, Floyd Patterson, Kid Gavilan, Manny Pacquiao, Carlos Palomino, Oscar de la Hoya and Shane Mosley.
Jack will be remembered not only as a retired member of the LAFD but also as a world renowned boxing referee. Congratulations to you, Jack, for being inducted into the California Boxing Hall of Fame.
Trackback from your site.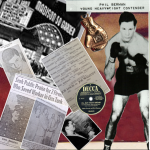 Ellen