Harry Wiley Boxing Trainer…"WHEN YOU WISH UPON A STAR" Dad
TRAINER HARRY WILEY "WHEN YOU WISH UPON A STAR" DAD
"AS I REMEMBER" BIOGRAPHY
as told to me by his son HARRY WILEY, JR., Written by Ellen Berman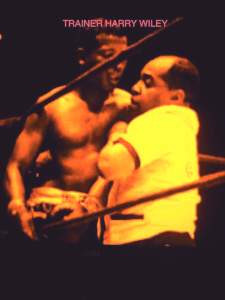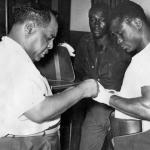 AUDIO VERSION OF TRAINER HARRY WILEY'S BIOGRAPHY

                              

Harry Wiley Sr. was born in New York City on October 23, 1907.  Harry Wiley Sr. was raised on the first floor of a two family home that his Dad owned in Montclair, NJ.  His Dad was a postal worker and a very hands on loving father. His wife passed away when the children were very young, and his sister moved into the home and helped to raise his children. Harry Sr.'s  Aunt was a teacher and knew many languages….and was so very loving to her niece and nephews.  Harry Wiley Sr. grew up with so much refinement, class and a loving household. His Aunt was like an Angel at this very difficult time after losing their mother.  Harry Wiley Sr. deeply loved his Dad, siblings, and Aunt.  Sadly, they all died at a very young age and this broke Harry Sr.'s heart. His brother at a very young age was run over by a taxicab in Manhattan. It seems like Harry Wiley Sr. turned his heartbreak into a love for people and a love for every moment and every good thing that life had to offer.  This is the cement foundation that molded Harry Wiley, Sr. into this extraordinary boxing trainer and Dad.   Every interview on www.boxingbios.com has a theme song and his son Harry Wiley, Jr., who I will refer to as HWJr. throughout this biography , did not hesitate to tell me that his father was the "When You Wish Upon A Star' Dad, Trainer and Human Being. HWJr. began to recite some of the lyrics of the song that summed up his Dad so well..

"WHEN YOU WISH UPON A STAR"

Makes no difference who you are Anything your heart desires Will come to you. If your heart is in your dream No request is too extreme When you wish upon a star As dreamers do.

If you could dream up a Dad, best friend and mentor….that dream came true for HWJr.   HWJr. was raised with both parents until he was seven years old.  When his parents went their separate ways, HWJr. lived with his Dad in New York City until age 11.  When HWJr. was 11 he was at his Dad's side when he was rushed to the hospital and died of a heart attack at age 63.  Harry Wiley, Sr. was in his mid-50's when his only son was born.  He went everywhere and did everything with his Dad.  His father took him on trips, to fights and would tell him stories that built a cement foundation for his treasured son.  Harry Wiley the Trainer didn't tell his son what was right and wrong…he showed him through action. HW Jr. has such fond memories of his Dad getting him all dressed up in his school uniform and putting on the finishing touch of placing the little bow tie around his neck and sending him off to the private catholic elementary school down the street in their Harlem neighborhood.   Good character, hard work, kindness, acting like a gentleman at all times…HWJr. was taught all of that by his father…because that is the way his father lived.  Some of the most powerful and successful boxers in the world couldn't survive without their trainer Harry Wiley.  Wiley, as they used to call him, was their psychiatrist, father figure, brother figure, chef, physical therapist, financial advisor and character builder. So many distractions and problems would go on behind the scenes in the lives of boxers.  Wiley traveled all over the world for 25 years as the trainer for  Middle Weight Champion Sugar Ray Robinson.  HWJr. remembers Sugar Ray coming over to their house and begging Wiley to make him some of his famous beef stew. Wiley insisted that he didn't have the ingredients on hand and he would make it tomorrow because it was so late. Sugar Ray had such a craving for his beef stew that night so Wiley told him if you buy the beef, potatoes, carrots, etc. he would cook it for him.  Imagine sending the Five Time Middle Weight Champion of the World out to the grocery store.  Wiley made the most delicious beef stew…just as he did for so many years when they were on the road together.  Harry Wiley Sr. not only owned Wiley's Gym on 137th Street in Harlem, he owned a restaurant and a niteclub.  He was a very industrious man. Wiley was know as the biggest class act in the entire boxing world…and Wiley's Gym in Harlem was a one-stop shop for anything and everything that a boxer would need.

 Here is what Muhammad Ali thought of  Trainer Harry Wiley, Sr.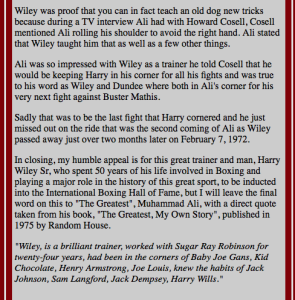 Here is an article that was written by Harry Wiley Jr. as a tribute to his "When You Wish Upon A Star" Dad and Published in Volume 2015 THE BOXING MAGAZINE.COM in 2009.
My dad was Harry Wiley the trainer of Sugar Ray Robinson . He was born October 23, 1907 in New York City. After graduating from DeWitt Clinton High School in Manhattan, New York he decided to have a go at boxing. He started pretty good and won his first seven fights, then "disaster" He got hit by a Taxi and broke his leg. That was sadly the end of what could have been his promising boxing career but he had developed a love for this fine sport and started hanging around gyms. It was there he met Jack Blackburn and started working with young boxers, mostly amateurs. He also worked with the boxer Henry Armstrong. Henry Armstrong was famous for being the first fighter to hold three world championships simultaneously. That was the end of what could have been his promising Boxing in the ring…but the beginning of another amazing career in Boxing.  Back then, being a trainer was different! You couldn't just carry a bucket or a water bottle, or yell at your fighter, "you Da Man!" Or as I recently heard a cornerman yell at his fighter "You' re the big DAWG!" now go out there and eat. No you had to actually know something about the game. I am relating these stories as I remember hearing from my dad as he spoke with his friends and other fighters. First of all, as a cornerman, (notice I didn't say trainer, that's a whole other job) your job was to assist the trainer or what they call the chief second, the man responsible for the corner. These duties may include taking care of the mouthpiece, the boxers gloves, shoes. Yes shoes! New boxing shoes were, and still are smooth and must be "marked up, " with scissors or a fingernail file. Your job was not yelling at any body, actually you weren't allowed to say anything, that was the trainers job and you were not to ever interfere during the round breaks. The fighter needs to hear only one voice in the corner and that's the voice of the head trainer. In Ray's case, his corner was run by two old smoothies, manager George Gainsford and my dad Harry Wiley, who were with him from the beginning, at Salem crescent church in Harlem. There was no yelling come on, you're Da Man stuff, everything was small and concentrated… a wink and a nod between George and Harry was all that was needed. This made seamless, smooth running of the corner. The prior was not a statement from me but from an article I read in ring magazine, about the great sugar man's corner.  I have fond memories of my dad's stories about Sugar Ray Robinson.  My dad played a pivotal role as trainer to the greatest fighter pound for pound in the history of the game, and on top of that he was Muhammad Ali's trainer for two fights as well as Ellis and Mathis before he died.
Harry Wiley Jr.
(Proud Son of Harry Wiley Sr.)
[/audio]

Trackback from your site.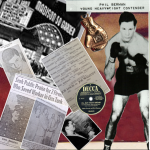 Ellen