Henry Hascup Boxing Historian "WIND BENEATH MY WINGS" Dad
        HENRY HASCUP "THE WIND BENEATH MY WINGS" HISTORIAN/ANNOUNCER
AUDIO VERSION OF HENRY HASCUP'S BIO READ BY ELLEN BERMAN
Dad's Biography (AS WE REMEMBER) Excerpts from interviews with Henry Hascup's Son….David Hascup & Daughter….Kim Hascup written by Ellen Berman
Hascup was born on October 8, 1948 in Paterson, NJ. I am going to start this biography by telling you Henry's boxing story. Henry is often known as the "Uncrowned King of Sports Information". Henry is a dapper ring announcer that has announced over a thousand boxing shows in the New Jersey and New York metropolitan area. He is also the Heavyweight Champion of the world in boxing support. Henry Hascup takes pride in his affiliation with the sport of boxing. Sports writers from all over the world call Henry at home to verify sports information as factual. This boxing historian has over 10,000 sports magazines and 2,000 sports books as well as an incredible amount of sports memorabilia dating back to the 1800's. He is often called to do eulogies at funerals for boxers where he finishes by giving a "9" count and feels honored to do so. Henry got hooked on boxing when he was a child and read the magazines, "Boxing Illustrated" and "The Ring". Almost sixty years later…Henry is an appreciated, respected boxing figure throughout New Jersey….both on the amateur and professional level. Henry Hascup is the longtime president of the New Jersey Boxing Hall of Fame as well as the New Jersey Diamond Gloves and The New Jersey Association of USA Boxing. Henry is also a noted boxing historian and ring announcer. Henry takes a tremendous amount of pride in being a family man that cherishes every moment with his wife, children and many grandchildren. As far as the boxing world, I think Henry takes this most pride in being there for his ongoing charitable endeavors for both financial and moral support for boxers and boxing families. Henry never turns down a phone call…and most days his phone rings off the hook from boxers and boxing families.  His wife Joyce told me that he takes as much care talking to phone call#1 as he does to phone call#60. Henry has so much love and respect for everyone…I don't know how one man can be so much to so many.  His hard knocks as a child helps him to relate to everybody in the most positive way.  Henry has turned every scar in his life into a star.
Henry's personal life shaped him into the man he is today. He was born into the Hascup family but was taken away when he was an infant and became a foster child. Henry thought his name was Bruce McKnight until the age of 8, the name given to him by the kind McKnight foster family. They were led to believe that they would be able to adopt him one day. To the McKnight's heartbreak the foster system took Henry away at age 8 and shuffled him around to another foster home in Newark until Henry was given no choice and made a decision to rejoin Ed and Mabel Hascup and his siblings at the age of 10 years old. When Henry went back to his birth parents they lived in a cold-water flat in Paterson right behind the jailhouse. It was the first time Henry knew what it was like to be poor. He would tell us that there was no hot water , no bathtub and if he found an apple on the ground he would eat it because he was so hungry. It seems that even as a child Henry knew how to make the best of everything. Even under these circumstances he never complained…he was heartbroken to see the way his family had to survive. Henry is probably the most grateful person in the world. Henry graduated from Passaic County Technical High School and retired after 37 years of service with the Public Service Gas & Electric Company. Henry married at a very young age to a cute girl that also went through the foster system and they had four children together. The marriage did not work out and Henry fought hard for custody of all four children. He was delighted to raise his children but couldn't have done it without the help of his older daughter Kim. Kim happened to be 8 years old at the time of the divorce and put down her dolls and traded them for pots and pans to run the house. She loved her role as right hand person to her Dad and found enjoyment cooking, cleaning and nurturing her two youngest siblings. (No wonder she now has a very rewarding career as a Children's Service Social Worker.) Henry's son David's earliest memories of his Dad are as a SuperHero that made the Impossible Possible. Henry Hascup is the  WIND BENEATH MY WINGS DAD. He said that his Dad had absolutely no time on his hands but made time for everything and made it look effortless. On top of working a full-time job with the PSE&G he raised four children 8 years old and under and enjoyed every moment of it. Somehow, he would bring David to baseball practice, his brother Henry to Judo & wrestling practice, sisters Kim & Kathy to Dance and Modeling Class and he would be everywhere!  David to this day cannot figure out how his father could do all of this.  David recalls that one day his baseball coach did not show up for practice….so from that day on with no hesitation, his father became the coach for the team. Henry would fill the need for his children in a heartbeat. He was a cub scout and boy scout leader, girl scout leader and one year he was even a brownie leader, besides being a PTA member.  David remembers that his father would quite often look at all four kids in such a loving way, and tell them that they are his life and he wouldn't be able to breathe without them. Kim remembers that her Dad would always encourage them to do their very best to win at sports and to take pride in their school work. Both David and Kim remember their Dad following them to all of their events with a giant professional video camera (technology) that weighed a ton and he carried it around on his shoulder. (No wonder Henry's son David is a Senior Computer Programmer/Analyst at one of the top companies in the United States.) Henry would film everything everywhere that they went…baseball games, football games, wrestling matches, amusement parks, dance classes, modeling classes, etc. Everybody thought that his children were celebrities and he was the paparazzi. In fact David had the funniest story about his Dad filming. David was on a football team when he was eight and kept insisting that his team needed elbow pads like the big guys. Henry kept telling his son  that they were too little to need something like that. Well one day, Henry was standing on top of a hill with that big heavy video camera trying to get nice aerial shots of his David's football game…and something strange was going on. Henry almost tumbled off of the hill when he zooms this sophisticated camera in and sees his son passing out his sister Kim's sanitary pads and wrapping them around the teams elbows and using them as football elbow pads. By the way, David told me that his father would make tapes for other kids and would help them make highlight tapes that would get them into college. David said that his father spent every dime he had on his children and took pleasure in doing so. Henry did try to cut corners by giving his kids haircuts instead of going to the salon. The haircuts were choppy but they respected their father so much they didn't tell them that the beautician neighbor (that ended up being their Dad's wife years later) would fix their bad haircuts. . David said that all four of Henry's children look up to their Dad…that Henry Hascup is everything to them. David does not recall his father buying anything for himself. Kim recalls packing a liverwurst sandwich for her Dad's lunch every day…that is all he wanted. David told me that he is a good Dad like his father and people always applaud him for being a great father. With great emotion David told me that if he could be half the father that Henry Hascup is he would be happy. This is a story of a family that would finally become better than the Brady Bunch. Henry was blessed with meeting a dream come true Beautiful Beautician that lived right in the neighborhood named Joyce. When David was 13 years old and Henry was a single Dad for about eight years cupid shot his arrow and Henry found the love of his life…a single mother of four. Henry started talking to Joyce at a football game. Actually, Henry knew Joyce for a while because his children were friends with her children.  He knew Joyce was single and was delighted when she agreed to date him…it took a while for him to get up the courage to ask her out. Henry was so smitten with Joyce. His children already  loved and knew Joyce as the warm and cool Mom of their friends. They got married…moved into Henry's house…Henry had four kids and a siberian husky and Joyce had four kids and a siberian husky and they live better than happily ever after for almost 30 years later. What a love story.
The following letter was written by daughter Kim Hascup for the whole world to see on
Father's Day – June 2015….To my dad Henry Hascup…
HAPPY FATHERS DAY.. to a man who has always put his kids first. Through good times and tough times ..through laughter and tears..he always stood proud of who he was and what he stood for.. he is selfless.. devoted..strong willed..loving..caring.. determined…and the list goes on.. he has taught us to be independent and never give up. I thank God for his strength and devotion everyday because I would not be the human being I am today.. life is busy and we really never stop to say I love you and tell you how much you have always been appreciated DAD… you have been our rock and our hero…it takes an incredible human being to raise 4 bratty kids on your own…but I have to say you did an incredible job . Happy Fathers Day…you deserve the best of everything..and Thank you for your unconditional love and devotion ♡ Henry Hascup  
What a great tribute to "The Wind Beneath My Wing"s Dad, Sports World Legend and Human Being.
[Background Music for "Wind Beneath My Wings"]

Tags: Henry Hascup Historian "Wind Beneath My Wings" Dad, Henry Hascup written by Ellen Berman, Henry Hascup www.boxingbios.com

Trackback from your site.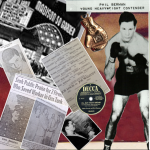 Ellen